Emily Nason has poetry in, or forthcoming from, The Georgia Review, Indiana Review, the Kenyon Review, TriQuarterly, and elsewhere. Originally from Columbia, South Carolina, she is currently an MFA candidate in poetry at the University of Virginia. Nason's poem, "Sertraline," won the Robert Watson Literary Prize and appears in The Greensboro Review 107.
JULIA EDWARDS: First, I want to say congrats on the Robert Watson Prize for "Sertraline"! It's such a cool poem with a really unique tone and lots of quick, surprising turns. It's the kind of poem that creates and operates by its own logic, which is a trait that quickly drew both myself and my coeditor, Matt Valades, to it early on. At the same time, it's well contained within the space of its 14 lines. In light of its specific length, do you consider this poem to be a sonnet? I'd love to hear a little about why you choose to put it in this form.
EMILY NASON: Thank you so much! I really couldn't imagine a better home for this poem. I've been the biggest fan of y'all's for years, and this is just a dream come true.
I definitely think of this poem as a sonnet! I was thinking a lot about the ritual of taking antidepressants while writing it. Sertraline is the very pretty pharmaceutical name for Zoloft. Taking antidepressants is a pretty regimented thing: take this number of pills at roughly this time, don't stop taking them all of the sudden, don't drink/eat certain things with them, etc. Form-wise, something that would be equally regimented felt right for this poem. I like that we all know how many lines a sonnet has. We all know there's a volta coming. There's ritual there. I wanted a form that was ritualistic, but also really accessible to everyone.
Getting more into the "guts" of this sonnet, I purposely wanted this poem to be bursting at the seams. That's personally how my mind works unmedicated (and, truthfully, medicated!). I don't often think of the sonnet form as being expansive in subject. I wanted to challenge my own assumption there. You have fourteen lines, and you have to fit the following: four different birds, your dog, a lost ball, your mother, your mother's surgery/illness, your relationship with her, witches, and your mental health. It was so fun to write, and I truly don't think a lot of the leaps the poem makes would happen without the tightness of sonnet form.
JE: I love the parallels you describe between the ritualistic nature of a daily pill regimen and the confinement of the sonnet as well as the vast, associative threading that can happen inside it, like the mind. I'm glad you mentioned the title because honestly, it caught my attention right away! The irony of addressing what we typically think of as a love poem (the sonnet) to an SSRI is unexpected and also quite funny. I really appreciate the initial tension this gesture sets up as well as the humor in the poem in general. It seems to walk the line between sincerity and playfulness, using tools like voice and image narrative to allow the poem and its speaker to figuratively both "sink" and "float" at the same time. Of course, there are serious concerns in the poem, but I wonder if you could tell us about whether you meant it to be funny and/or the way tone is working here.
EN: I love that you brought up the fact that the sonnet is so often seen as a love poem! I think that's where the poem gets some of its humor from. I have tremendous love for everything in the poem—my mom, my dog, and especially my mental illness. Those are all things that deserve celebration because they are testaments to still being alive. I've heard countless times that the world has enough "dog poems" and "sad poems." Of course, I very much disagree with that statement—bring on the dogs and the feels! But I didn't want the poem to be sappy or melodramatic or stereotypical of "those" kinds of poems. It's helpful that my dog is genuinely a weirdo and perfect and doing things that make me laugh everyday (which is what I imagine all dog owners say). But making mental illness not melodramatic or too serious? That's so much harder and something I'm constantly thinking about while writing.
JE: Much agreed! I'm a big fan of sad poems and dog poems or any combination of the two. There's almost a conflation of the dog with the speaker in the first line: "Object permanence: something my dog doesn't think / I possess." Because "I possess" doesn't come until after the line break, a question arises about ownership both on the sentence level and thematically in the poem. I love how the dog is both so independent and closely identified with the speaker. I wonder if there are other poets you like that explore human/animal relationships or if you draw mostly from your own experience? (These don't have to be mutually exclusive!).
EN: Mark Doty has some absolutely stunning dog/love poems in his book Deep Lane. There's one poem—also called "Deep Lane"—that ends with the speaker watching his dog run in a graveyard: "I stand and watch him go in his wild figure eights, / I say, You run, darling, you tear up that hill." That's a perfect ending to a poem, right? I also love all of Ada Limón's horse poems (from "Downhearted," "Six horses died in a tractor-trailer fire. / There. That's the hard part. I wanted / to tell you straight away so we could / grieve together."). Jack Gilbert sometimes just drops an antelope in a poem, which makes no sense, but also complete sense at the same time? And so many snake poems! Safiya Sinclair's "Portrait of Eve as the Anaconda" and Louise Glück's "Cottonmouth Country." I definitely turn to any of the above poets for writing about the joy of animals.
I also read a lot of motherhood and love poems, which I think definitely plays into "Sertraline." Beth Ann Fennelly's first book, Tender Hooks, and her latest, Heating & Cooling, are two of my faves. I don't think that having a dog is the same as having a human child, but I think there's something about a pet's dependency on you that feels applicable or similar.
JE: These are really wonderful and eclectic suggestions. Thanks for mentioning them! While we're on the topic of influences, I'm curious about what else you look for in a poem—it could be writers you've been turning to recently in the midst of our current pandemic, or just elements of poetry in general that you are drawn to for inspiration. I know this is a broad question, so feel free to take it in any direction!
EN: As far as what I've been reading during the pandemic, I've been swinging between extremely joyful works and extremely depressing works. On the joyful end: Roya Marsh's "Ode to Fetty Wap (written after strip club)." I can't read that poem and not be invigorated. It should be required reading for everyone. On the depressing end: Maggie Nelson's Jane and The Red Parts. I'm super late to reading her, but it's wildly inspiring how Nelson recreates memory and loss with such an empathetic and fierce eye.
For poetry influences, C.D. Wright is the queen of all queens for me. I love how her poems feel like they exist in a different universe. Deepstep Come Shining is such a weird book, and I'm constantly inspired by how the sheer confidence in the voice of that poem makes it work. I'm also really loving Ellen Bass and Sally Wen Mao right now. And, if you don't mind me poetry geeking out for a moment, I'm really obsessed with this idea of "conceptual rhyming" that Matthew Zapruder talks about in Why Poetry: "a poem can rhyme conceptually: that is, through ideas that relate in some way, obvious or hidden." I am aggressively bad at traditional rhyming and that stopped me for a long time from attempting more formal poems. But once I started thinking about a poem having a conceptual rhyme scheme, it freed me to make these wild and weird jumps the poems needed that I wasn't brave enough to make before.
JE: "Conceptual rhyming" is a really cool idea. I'm especially excited to check out "Ode to Fetty Wap". On a related note, if I remember correctly, "Sertraline" was one of a series of sonnets with the same title (please correct me if I'm wrong!). I'm wondering if you have a project in mind that you are working towards or if you'd like to just talk more generally about what you've been working on lately, that would be great, too! I'm always curious about how poets approach their work—more as individual poems that become part of a collection or if the larger conception comes first.
EN: Yes, you're completely right! I've been writing a whole lot of these "Sertraline" sonnets. The series has rules: they all have to be sonnets, in couplets, named "Sertraline," my dog has to be in them, and there has to be some aspect of mental health/medication side effects. I started the series on a whim. I wrote one and had so much fun that I just kept going. And going. And going. I very much wasn't a series poet before I started writing these poems. But I'm now a little obsessed with series!
The sonnets also completely overhauled my manuscript. I want to inject some of their high energy into the rest of the book. My manuscript is definitely deeply focused on mental health/what it means to have a mind that you can't necessarily trust to tell you the truth. And there are a ton of animals. And both of those aspects come completely out of the sonnets!
JE: I love the themes and energy in your work and can't wait to read your collection whenever it comes into the world! My last question is a little strange, but I recently "visited" a class of fifth graders to give a lesson on workshopping and I also just finished my MFA, so I've been thinking about simple ways to describe poetry as I try to introduce it to those less familiar. In the spirit of simplicity (although, of course, it's never as simple as it seems!), I thought I'd ask you: what does "poem" mean to you?
EN: I would've loved to be a fly on the wall in that class of fifth graders because I bet they, in some ways, have a way clearer understanding of what a poem is than I do! I always tell my students that a poem is a living thing. A poem is a breathing, moving thing! It's got a pulse (and sometimes it doesn't have a pulse and you need to revive it). You've really got to listen to a poem to see what it needs and move with that. And sometimes the poem is going to evolve toward places you don't foresee, and that's okay too. That's what organisms do!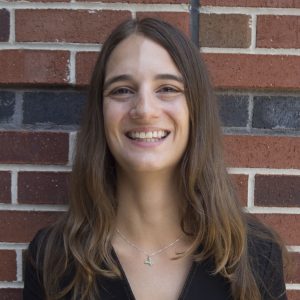 Julia Edwards is a poet/writer from New York. Her work has appeared in Bat City Review, Brooklyn Magazine, Breadcrumbs Mag, and Across The Margin, among others. She holds an MFA in poetry from The University of North Carolina, Greensboro.