By Michael Pittard, Poetry Editor
One of the most exciting poems I came across while reading for Issue 105 was a gorgeous and thundering piece by Maya Salameh. "my other mouth //" is a poem unafraid to deal with the complex realities of being of Arabic lineage, confronting its reader with both beautiful language, syntax, and images but also with dark, brutal scenes and diction, as in the following lines: "…my Arabic loves like mint / in stalks & leaves / a mouthful of holy water / the splintering of ships / the crucifix / on my grandfather's wrist /." Language and culture create our ideas of self-hood, and Maya's poem breaks down both society's desire to fully embrace differences but also its desire to ignore them completely.
There is so much that is human and vibrant in this poem that stands out at first blush, and on subsequent re-reads Maya's skillful wordplay and more nuanced arguments emerge: "/ if you ask me if I am fluent in Arabic / I will tell you / I am a poet / & a poet owes a language her tongue / hands / toes / I will say / before its arrival / the world was prose /." The poem's form, with line break notation embedded in the lines, argues against Western poetic tradition but doesn't completely reject it either. The poem's speaker, and Maya, understands that people, places, and the world can be more than one thing at any given time. Yet they are not bashful about standing up for what they believe in. It is one thing to be young and full of passion, as Maya so clearly is, but it is another to be young, full of passion, and capable of seeing the world in all of its complications. The Greensboro Review loves to elevate lesser-known (and often lesser-heard) voices, and Maya Salameh, at the time of publication a college freshman, is a poet clearly on the rise.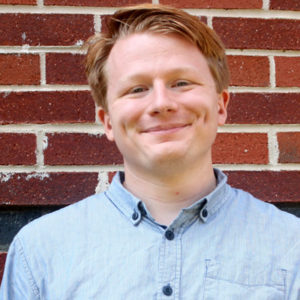 Michael Pittard is a recent MFA graduate of The University of North Carolina at Greensboro. His poems and reviews have appeared in such publications as Tupelo Quarterly and Red Flag Poetry. He lives in Greensboro with his cat, Roosevelt.