Richard Moriarty just finished his second year in the MFA program at UNC Greensboro. He's originally from Kansas City. He went to University of Miami (the Florida one) for undergrad, where he studied advertising. He's working on a collection of stories tentatively titled River Runners. Books currently on his nightstand: The Complete Stories of Leonora Carrington, Steinbeck's Travels with Charley, and Run the Red Lights by Ed Skoog.
Evan Fackler: You're a wizard at the compact ten-page story, and yet we've chatted before about your admiration for The Art of Fielding, a novel that does for baseball what Moby Dick did for whaling. Do you have any interest in writing—I'm not going to say a "novel" but let's just say, "a longer work of fictional prose narrative"?
Richard Moriarty: Haha, I appreciate that! I have to admit, though, I've gotten a little self-conscious about my difficulties with writing anything longer than ten pages. But it may just be that the stories I've been working on are better suited for the shorter form. I loved The Art of Fielding, and I think I read it at just the right time, a time when I was still very much obsessed with baseball and just starting to get interested in writing fiction of my own. It's a great novel, but yeah, I don't know if I would recommend it to someone who doesn't already watch and admire baseball.
To be honest, it's hard for me to imagine myself writing a novel. While Chad Harbach's book got me really thinking about trying to write, I didn't actually start doing the thing writers must do—making writing part of their daily routine—until I fell in love with short stories. I loved how funny Lorrie Moore's stories were, how weird George Saunders's were, how Elizabeth McCracken's stories could offer all the complexities that I expected from novels. Maybe my approach will change as I develop as a writer, but for now I'm solely focused on writing short stories as well as I can.
EF: What are some of the most frustrating correspondences you've handled for the GR? I mean, things writers submitting to magazines or corresponding with editors should avoid doing?
RM: I think we were really lucky over the past year to work with writers who weren't just excellent short story writers but also great people to embark on the editorial process with. I'm sure I tested multiple authors' patience with all sorts of requests: delete a comma here and add an em dash there, cut a well-written description of setting because of a repetition, write a new sentence that adds greater clarity about a character's past. The only thing that irritated me was when an author would overlook or misinterpret a step in the back-and-forth communication of the editorial process. It's a lengthy affair and sometimes a complex one—with multiple rounds of editorial suggestions for a given story after we've accepted it—so it's understandable for an author to miss one component of it. All this is to say that every journal's process is different and it's important to keep that in mind when working with editors on your story.
EF: Every semester GR editors put out a call for volunteers for something called "Bartlebying." What the heck is that?
RM: Good ol' proofreading! We partner up and read each story out loud to one another, many times over. After three or four hours of this, my mind is pretty much useless and it's time for lunch and/or a nap. That said, I've found Bartlebying to be very useful for us. I'm always surprised at how many copy-editing changes come to light during this process.
EF: Do you have any absolute favorite stories you've gotten to publish?
RM: Dang, that's a tough question. We accepted nine stories over the past year and I really do love each one. Some things that jump out at me as I look back are: the way Nick Brown's "A Fundraiser" reveals another quirky detail each time I re-read it; the intricacies of character in Sharon Solwitz's "Violation"; Sarah Heying's risk-taking in "The Chair Kickers' Tale" with regards to voice and narrative structure.
EF: FAQ – Is The Greensboro Review only for previously published writers?
RM: One of my main goals as an editor is to look beyond the author's experience level and solely evaluate the quality of the story in front of me. We've published debut fiction as well as work from past contributors to Best American Short Stories. I think that's something really cool about the short story—every single submission presents something new and has the chance to surprise us, delight us, or haunt us for weeks after reading it.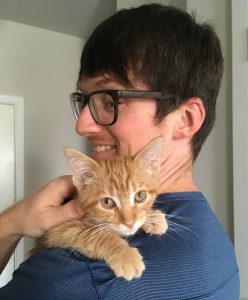 Evan Fackler is a fiction candidate in the MFA program at the University of North Carolina at Greensboro. You can find him on Twitter @evanchilli